DX5 Pro 5-Channel DSMR Transmitter Only
Spektrum -
Item No.
SPMR5025
Now ready to support the connectivity advantages of Smart Technology out of the box, the Spektrum™ DX5 Pro DSMR® also includes design and ergonomic improvements to give racers, bashers and boaters top-of-the-line features at an affordable price.
(1) Spektrum™ DX5 Pro 5-channel DSMR® Transmitter
(1) Product Manual
Smart Technology compatible out of the box
Five fully proportional channels
Multiple mixing setups including Motor on Axle (MOA)
Upgraded RF Module for stronger signal and improved output power
5.5-Millisecond frame rate with compatible receivers
(1) Compatible Spektrum™ DSMR® Receiver
(4) AA Transmitter Batteries
Introduction
If you're a racer, basher or boater who's looking for an affordable radio with a "custom" feel and next-generation capabilities, look no further than the Spektrum™ lineup's new top-of-the-line surface transmitter: the 5-channel DX5 Pro.
Features
Smart Technology compatible out of the box
Upgraded RF Module for stronger signal and improved output power
Five fully proportional channels
Generous ergonomic options for tailoring the transmitter to your feel
Multiple mixing setups including Motor on Axle (MOA)
DSMR® 2.4GHz technology (backwards compatible with DSM2®)
5.5-Millisecond frame rate with compatible receivers
Advanced programming features, made easy to use with SimpleScroll™ interface
Built-in telemetry
Programmable vibe alerts
250-Model memory
LiPo battery compatible (battery not included)
Overview
Available as transmitter only or matched with an SR2100 DSMR® receiver, the DX5 Pro delivers the performance and comfort of a pro-class radio at a price that won't break your hobby budget. Its improved ergonomics, connectivity and programmability are ready to take your control to the next level.
Video Overview
OUT-OF-THE-BOX SMART CONNECTIVITY
The Spektrum™ DX5 Pro is ready right out-of-the-box to support the innovative connectivity of Spektrum™ Smart Technology. With a Spektrum™ Firma™ Smart ESC and Smart battery in your model, you'll have real-time telemetry data available at your fingertips to keep you aware of every component's status and to boost your confidence in its capabilities. Smart Technology ensures that all of your model's electronics work together seamlessly for the greatest efficiency and performance. It makes your entire system more responsive and simpler to use.
Launch Control Mode for Drag Racing
Available with Raceware firmware V2.02 or higher, the Launch Control menu is specifically geared towards perfecting your Drag Race times and speed runs. This option allows the driver to control the duration of time it takes to reach full throttle as well as adjusting points in the throttles curve to effectively ramp the throttle to the user's preference. Essentially controlling the throttle output so that the driver can focus on steering their model straight to the podium.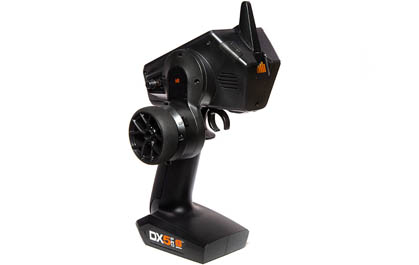 IMPROVED SIGNAL QUALITY
The DX5 Pro features Spektrum's latest RF module, engineered around DSMR® 2.4GHz technology. This generates a stronger and more robust signal, increases the telemetry range, and creates an extremely reliable connection between the transmitter and receiver. When paired with a receiver capable of 5.5ms frame rates, such as the SR2100, the DX5 Pro delivers lightning-fast response that gives new meaning to the word "connected".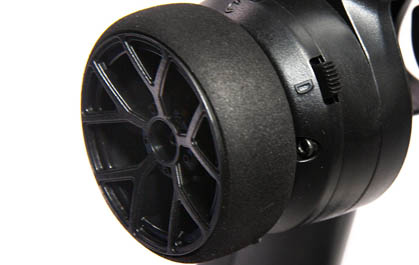 PRECISE STEERING WHEEL MECHANISM
The ergonomically designed DX5 transmitter has a feel that any driver can appreciate. Its overall low weight minimizes fatigue, while the non-slip rubber grip and trigger-throttle action deliver precise control that feels perfectly natural. To these, the updated DX5 Pro transmitter adds a new steering wheel mechanism that increases the accuracy and precision of steering motion.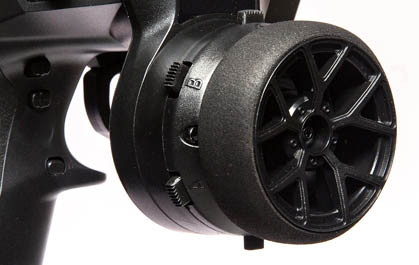 UPDATED TRIM TABS
Among the many ergonomic options available for tailoring the DX5 Pro transmitter to your personal touch are updated trim tabs, designed to make their operation easier while you drive your vehicle.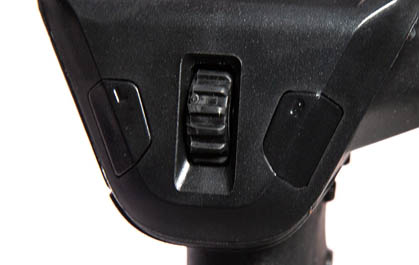 ADVANCED PROGRAMMABILITY
The DX5 Pro offers an impressive number of programming features — and they're easy for anyone to use, thanks to the SimpleScroll™ programming interface that makes navigating menus and changing settings as simple as "scroll and click". You can program up to five drive modes per model to help dial in the perfect drag racing and lap times. Drive modes can also be used to program compatible AVC® (Active Vehicle Control™) receivers to match your skill level, driving style, and terrain to provide predictable handling at every speed. There are multiple mixing setups, including Motor-On-Axle (MOA), plus ABS, Traction Control and 4-wheel steering, dual rates, expo and more.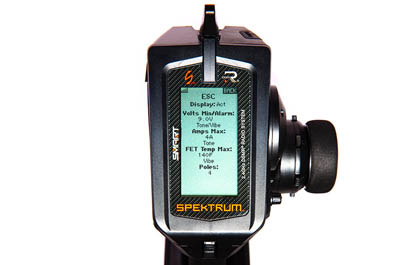 PROGRAMMING VIBE ALERTS
You can select from a variety of vibe alerts for timer alarms, low battery voltage and other telemetry functions. Most of these can be set to go off when the voltage level or telemetry data exceeds specific values that you can easily define in the telemetry menus.
PRODUCT SPECS
Operating System
Raceware
Gimbal Type
Not Applicable
SD Card/Airware Capable
Yes
Product Width
5.6" (142 mm)
Frame Rate
5.5ms, 11ms, 16.5ms, 22ms
Completion Level
Transmitter Only
Product Height
5.3" (135 mm)
Product Weight
1.4lbs (0.63Kg)
Transmitter (Tx) Battery Type
4 x AA or LiPo transmitter pack (not included)
Left / Right Hand Operation
No
Product Length
8.3" (211 mm)